Creping doctor system GALENO
The creping doctor system for tissue-specialists by CLOUTH SPRENGER
ADVANTAGES
NO DISTORTION OF THE DOCTOR BEAM THROUGH TEMPERATURE-RELATED DEFLECTION

THE GALENO DOCTOR BEAM FEATURES THERMO-STABILISATION– THE TEMPERATURE OF THE DOCTOR BEAM EQUALISED, SO AVOIDING ANY DEFLECTION DUE TO TEMPERATURE DIFFERENCES IN DIFFERENT AREAS OF THE TISSUE MACHINE.

DAMPING OF THE BLADE WITHIN THE HOLDER

THE INNOVATIVE CLAMPING OF THE CREPING BLADE IN THE HOLDER VIA A PNEUMATICALLY PRE-STRESSED HOSE PROVIDES EFFECTIVE VIBRATION DAMPING WHERE IT MATTERS MOST: DIRECTLY AT THE BLADE.

DAMPING OF THE BLADE CLOSE TO THE YANKEE

THE VULKOLLAN 'SHOE' HAS MAXIMUM CONTACT WITH THE CREPING BLADE DAMPING VIBRATION AT THE YANKEE.

PROFILING OF THE DOCTOR BLADE

THE INDIVIDUAL PROFILING FINGERS HOLD THE BACKING BLADE AND CAN BE INDIVIDUALLY ADJUSTED OVER THE ENTIRE WIDTH OF THE DOCTOR, ENABLING THE CREPING BLADE CAN BE PERFECTLY PROFILED TO THE YANKEE SURFACE.
MATERIAL
THE CARRIER BEAM OF THE CREPING HOLDER CONSISTS OF A DOUBLE PIPE

VULKOLLAN PROFILE WITH METAL INLAY AS DAMPING-ELEMENT AT THE YANKEE

PNEUMATICALLY PRE-STRESSED HOSE AS DAMPING-ELEMENT AT THE HOLDER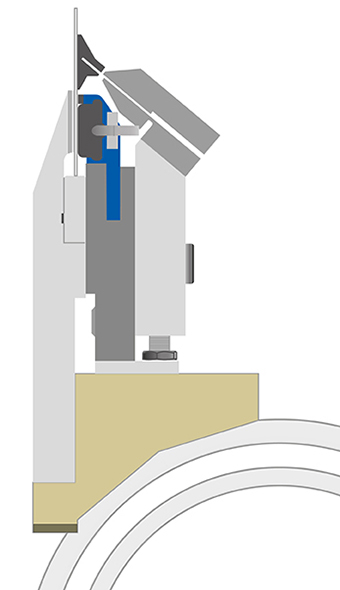 Productvideo