Have a quiet life. Silence the chatter!
Clouth Media Crew - January 2020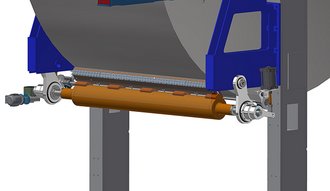 Tissue production without vibrations:
The new creping doctor system GALENO
A major revolution in the tissue industry: The new GALENO creping doctor holder stops vibrations at the creping blade – and thus raises productivity and improves Yankee safety. How does that work? Very simple, with unique Clouth Sprenger innovative technology.
INTO THE FUTURE USING CUSTOMISED SOLUTIONS – PREVENT CHATTER.
Our Research and Development Department got to the bottom of quality problems and expensive downtime in the tissue production. Following research into vibration around the creping process, a significant cause was traced – and the idea for the GALENO was born. Simply: the GALENO prevents the creping blade vibrating. This is achieved as the creping blade is held inside the holder and fixed using a clamp hose to prevent transmission of vibration. A further damping element at the upper end of the holder prevents vibration along the entire length of the creping blade.
CONVENTIONAL DOCTOR HOLDER CREPING DOCTOR HOLDER SYSTEM BY CLOUTH SPRENGER
RAISE YOUR PRODUCTIVITY. PROTECT YOUR YANKEE.
A great feature of the GALENO is the option to adjust the operating angle during running, without having to stop the machine or change blades. An integrated water circuit prevents thermal deflection of the doctor beam, as it effectively counteracts the large differences in temperature between the Yankee surface and the environment. Safer and easier tissue production – with the Clouth Sprenger GALENO creping doctor system
ONE SOLUTION, MANY ADVANTAGES:
durable: prevent chattermarks and expensive Yankee regrinds

cost efficient: low-maintenance creping technology

raise productivity: minimise machine downtime

flexiblel: adapt the level of the Galeno doctor system automation to your requirements

Convince yourself of the benefits of the GALENO in our product video.
Convinced? You want trouble-free tissue production without Yankee chatter damage?

Contact us on: galeno@clouthsprenger.com or call Jörg Morschek, the responsible Project Manager: +49 174 1979846.
We look forward to receiving your inquiry.