CLOUTH SPRENGER - A successful Joint Venture
Clouth Media Crew - January 2020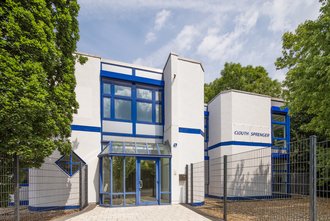 With founding of Clouth Sprenger GmbH, the two companies Horst Sprenger GmbH from Moers - specialists in doctor blade dosing systems - and Joh. Clouth GmbH & Co. KG from Hückeswagen - global market leader in the field of doctor blades - consolidated their forces to use synergies.
Clouth Sprenger GmbH is specialised in coating coater blades and creping blades with high quality wear protection coatings.
The pioneering processes in the field of refinement benefit our customers twice over: The longer service life of the products not only maximise productivity, but also significantly improve the paper quality. With regards to latest developments in the industry – we are always on the pulse of time.
In their test series the application technology department and the quality lab precisely and individually adapt the blades to the customer's application conditions which is to meet the challenges in everyday operation – for no coater ever looks like the other!
In addition, the application technology department and the quality lab provide the customers with support regarding to process optimisation. Here again, blade analyses provide valuable insights to achieve an efficiency enhancement and a quality increase with respect to the coating process.
Moreover, our CERADIA® R&D Team also contributes to the individual product adaption and development. In close contact with customers, universities and additional cooperation partners we are constantly doing research on the optimisation of wear-resistant coating.
Not only in the field of coated coater blades and creping blades we are pointing the way – we, as well, find innovative solutions to avoid vibrations at the creping blades and the resulting chatter marks. On this issue, we recently have been able to present the creping doctor system GALENO by CLOUTH SPRENGER – in using this holder, a protection of the Yankee surface is ensured and the maintenance costs can be reduced.
In addition, with our V-Guard vibration measuring systems customers can get a substantial insight into the blade vibrations during the ongoing process.
You want to learn more about the GALENO system? Then please call Jörg Morschek, our expert for creping blade holders, at +49 174 1979846 or send us a mail to galeno@clouthsprenger.com