The innovative doctor blade holder with patented QUICK-TOP system
Clouth Media Crew - June 2020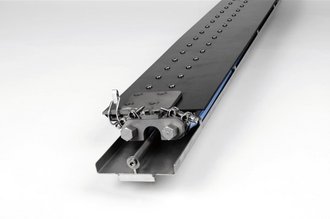 The Clouth doctor holders are the ideal connection between our blades and your machines. For flexible tube holders, the choice range from the classic CLOUTH-CONTOUR® to the modern CLOUTH® HS-1 and the innovative CLOUTH® TOPSLIDE.
The special feature of the CLOUTH® TOPSLIDE: The top-plate can be removed very easily by loosening just one screw. This makes it easy to slide off the top-plate complete with tubes and fingers, from the base-plate so cleaning and maintenance work can be done quickly and easily:

Regular maintenance of the pressure tubes
Regular cleaning of the blade pocket and fingers
Regular inspection of the top-plate
This saves time, costs and energy. For cleaning the blade pocket and fingers, we recommend the CLOUTH DOCTOR-CLEAN® cleaning system.
The CLOUTH® TOPSLIDE is equipped with a flexible carbon fibre top-plate which, unlike steel top plates, does not have a memory effect. Due to the flexible top-plate, the blade is loaded evenly, even on cambered and profiled rolls.
This innovative doctor holder can be used in all areas / positions on a paper machine. Due to its design, it is suitable for angles from 25° to 30° and is suitable for all common doctor blade materials - ideally from the CLOUTH® range. You see: Advantage upon advantage!
Would you like to know more? For further information, please see our product film and our detailed film of usage. Or contact us directly at sales@clouth.com.
P.S. Safety first!
For user safety, we have developed suitable accessories to increase work safety, based on the experience gained from countless installations. For safe doctor blade handling, we recommend the CLOUTH® SAFETY GLOVE and the CLOUTH® DOCTOR PULL range.
Here you will find our articles to the topic "Occupational Safety Weeks at Joh. Clouth".