Beautiful anew every year
Clouth Media Crew - December 2020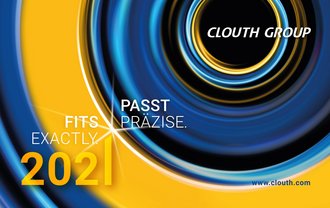 Beautiful anew every year
The two high-quality versions of the calendar from the Clouth Group can be described as classics. First printed in 2004, they are now already in their 18th edition. And the themes are always particularly eye-catching - in keeping with the spirit of the times!
Throughout the years, there have been simple, futuristic calendar heads or calendar heads characterised by graphic elements. Always with a tendency towards artistically influenced design.
For 2021, the 1 is shown as a brilliantly cleaning Clouth doctor blade in use on the surface of a roller. The roller shines in the well-known corporate colours of the Clouth Group and appears very dynamic in its design - almost a though it is in motion.
But whichever eye-catching image was used, one thing always remained constant: the reference to Joh. Clouth and the products of the Clouth Group. We think a Clouth calendar is always a real highlight in the office or production areas.
Of course, the calendar has been optimised again and again: The special thing about our wall calendar, for example – it can be written on and wiped clear as often as you like with a non-permanent marker pen. This way, holiday planning can be entered perfectly into the wall planner and if something changes, it can be easily adapted accordingly. Here too we have thought of the greatest possible flexibility.
When printing, then sustainably
The Clouth Group also attaches great importance to the issue of sustainability. We make sure that environmentally friendly papers and inks are used in the production of our calendars. For example, the paper used for the wall planners has FSC® certification. This stands for "Forest Stewardship Council®". An international certification system for more sustainable and responsible forest management.
The calendar pages of the 4-month calendar bear the FSC® certification as well as the EU Ecolabel. This is a dependable eco-label that has been identifying environmentally friendly products since 1992.
According to the manufacturer of the printing inks, one of the aims of the company is to gradually reduce the impact on the environment and resources throughout the entire life cycle of the products. When selecting raw materials, it strictly follows the EuPIA exclusion list (www.eupia.com) and the CONEG regulations on toxic heavy metals.
Positive accent 2021
Even though the year 2020 has posed very special challenges for each and every one of us, we look forward to the coming year. We hope that the calendars will set a first, positive accent for this.
P.S. Not received a calendar? A good reason to contact our sales department again ;) sales@clouth.com