Innovative new development
Clouth Media Crew - February 2021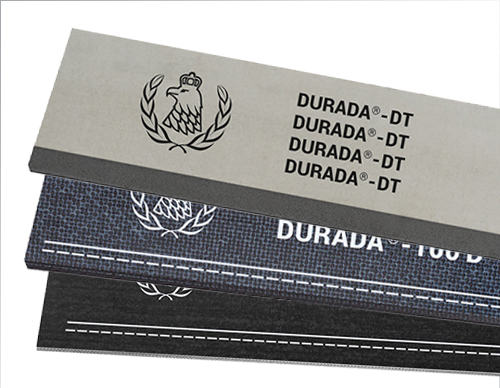 The new generation of doctor blades – for clean performance in the drying section
Today, the Durada® family is growing:
Our innovative new development Durada®-DT.
With the Durada®-DT, we have succeeded for the first time in developing a blade that is constructed by combining a thermoplastic matrix and a long-life ceramic coating in addition to a multi-glass fibre fabric on the inside.
An unique interaction of materials for sustainably clean cylinder surfaces!
This is where the Durada®-DT shows its particular strength.
The ceramic coating ensures gentle and lasting cleanliness of drying cylinders and roll surfaces.
If it is necessary to clean the cylinder beforehand, we recommend using a steel blade from the Clouth doctor blade range.
Another advantage of the ceramic coating is the significantly longer service life of the blade in use: this blade lasts longer than we would like*!
For you, this means reduced maintenance and increased run-time.

Whilst the Durada®-DT doctor blade is doing its work, it saves energy as only minimal pressure is required for its contact with the roll.
The Durada®-DT is suitable for all common doctor holder systems and is therefore easy to use.
Would you like to discover the advantages of the new Durada®-DT for yourself? Contact our sales experts at sales@~@clouth.com.
In the next article, we will introduce you to a blade from our glass fibre family:
The Clouth® -MT PCS. Stay intrigued and pop back in week 10!
*in comparison to uncoated doctor blades