Well combined!
Clouth Media Crew - April 2021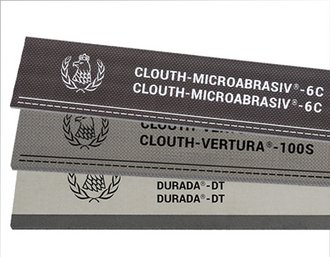 Over the last weeks, we have introduced to you diverse doctor blades made from varying material compositions. Here, we have presented classics such as the CLOUTH VERTURA®-100S blade or product novelties such as the DURADA®-DT blade.

In closing the doctor blade weeks at Joh. Clouth, we now present a blade in whose composition glass and carbon fibres are tied together: CLOUTH MICROABRASIV®-6C.
Well combined!
The special thing at the CLOUTH MICROABRASIV®-6C doctor blade lies in its interior. This doctor blade is given its strength by the combination of a superfine glass fibre fabric with an epoxy resin system as well as a carbon fibre fabric inlay and another inlay from finest silicon carbide!
Thanks to its combined material inlays, this doctor blade shows a very good cleaning performance at the roll surface thus ensuring an even surface roughness, for instance, at the paper-touched press roll. The very find silicon carbide inlay here brings forth very smooth roll surfaces and the result clearly can be seen at the end of the process; very plain paper of a high quality.
Universally suitable!
The CLOUTH MICROABRASIV®-6C doctor blade is suitable for the cleaning of manifold roll surfaces and can be made used of at different points in the production process. Particularly good is the experience in a use in the dryer section and the calender – despite its intensive cleaning performance it doctors the surfaces of the drying cylinders in a very gentle manner. Thus the CLOUTH MICROABRASIV®-6C doctor blade is very wear-resistant, and it convinces with its durability and a high plant availability.
A Successful Double!
As standard, this doctor blade is produced with a bevel on one side. On customer request, the CLOUTH MICROABRASIV®-6C doctor blade can, as well, be manufactured in a stronger version with a double bevel. The double bevel facilitates the very good cleaning performance as the silicon carbide inlay comes into direct use. In this way, the doctoring effect of the diverse fabric linings at the roll get intensified.
You want to be convinced of the advantages of the CLOUTH MICROABRASIV®-6C doctor blade? Please contact our experts at sales@~@clouth.com.
Full details on the product features of the CLOUTH MICROABRASIV®-6C blade can be found here on our product page.
After having presented five doctor blades now, we finalize the Clouth doctor blade weeks and will be back in calendar week 16 with an interesting new article.