Bundled Expertise
Clouth Media Crew - March 2022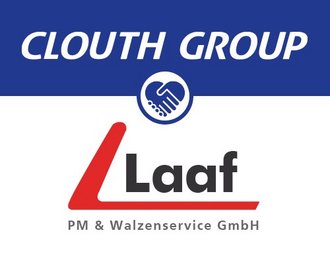 In the last Clouth:Ticker we introduced you to the <<model of success>> Joh. Clouth PaperTec GmbH and the team responsible for this success.

Today we would like to introduce you to our first partner: the Laaf PM & Walzenservice GmbH based in Mechernich-Vussem in the Eifel region of Germany.
From the very beginning, it was planned to represent - in addition to the Clouth Group - other top-performing partners on the market. The aim was and is to create synergies through the exchange of expert knowledge, as a result of which our customers can be offered optimally coordinated systems. Already in the first year of the existence of the Joh. Clouth PaperTec GmbH we could win the company Laaf PM & Walzenservice GmbH for us which we represent on the German and Austrian markets as well as in Switzerland.
Same Understanding of Quality
The companies of the Clouth Group offer reliable solutions for high quality at fair conditions. Our partners follow the same maxim. It is therefore not surprising that the Laaf PM & Walzenservice GmbH has always concisely summarized its guiding principle in this message: Special Quality Rolls!
After the founding of the company in 1998, the product range initially included the manufacture of guide rolls, press rolls, reels, bearings, and drive parts; including technical design, as well as the subsequent service work such as grinding, balancing etc.
The service of suction rolls with special quality completes the portfolio of Laaf.
The Laaf PM & Walzenservice GmbH cooperates independently with all well-known manufacturers of coatings for rolls.
Today, the company clearly stands out from the crowd of suppliers in the field of constructive roll manufacturing and subsequent service.
Special differentiators are:
the documented micro crack detection (as of 2 µm) by means of the magnetic powder method during the journal revision
sustainable, constructive solutions for a durable journal protection
roll concepts and designs that ensure a long service life – even with subsequent PM speed increases!
In summary, this means: The Laaf PM & Walzenservice GmbH is the problem solver for the most complex roll design requirements.
Any questions? Then please contact our experts via the Sales Support: andrea.dahlmann@~@clouth.com
Next week we will introduce you to P.R. Rolls Oy – one of our partner companies in Finland.