Bundled Expertise
Clouth Media Crew - April 2022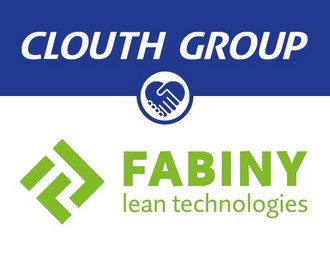 Joh. Clouth PaperTec GmbH and Fabiny GmbH. Quality in Every Detail.
Our cooperation network continues to grow.
We have been working together successfully with Fabiny GmbH since the summer of 2020 now. Fabiny GmbH delivers smallest parts with best quality, as sometimes the smallest parts of a large machine are essential for the overall result.
www.fabiny.de
Fabiny GmbH supplies its customers with a wide range of high-quality HD ruby nozzles for the conditioning and cleaning of press felts and forming fabrics screens in the paper machine as well as a wide range of variants of first-class trim squirt and tail cutter nozzles - all nozzles are equipped with high-precision rubies and offer the highest jet quality. In addition, Fabiny GmbH offers various designs of edge trimming units; these are units especially developed for the trim squirt nozzles which allow a safe and precise alignment of the nozzles during operation of the paper machine. To achieve the best possible trim cut quality, they are equipped with a pressure regulation and quick-change filters.
The product range of Fabiny GmbH is rounded off by the pump systems offered - which can be individually adapted to the customer's needs - for supplying trim squirt and tail cutter nozzles.

Since the beginning of the cooperation, many customers already have been convinced to switch to Fabiny's reliable and precise nozzle solutions. Joh. Clouth PaperTec GmbH and Fabiny GmbH are currently working together to produce nozzles that can be used at a water pressure of up to 2,000 bar - such as in a water jet tip cutter or in drying screen cleaning units. A number of projects already is underway with a large paper manufacturer in southern Germany.
Any questions? Then please contact our experts via our Sales Support: andrea.dahlmann@~@clouth-group.com
This concludes our series introducing the Joh. Clouth PaperTec GmbH and its partners - but today is not the end of days, maybe we will be back soon with new partners. Always with the aim to round off our competences enabling us to offer our customers innovative products and solutions. For a measurable added value!