Graffiti Art Now Found at the Clouth Group's Administrative Headquarters
Clouth Media Crew - January 2021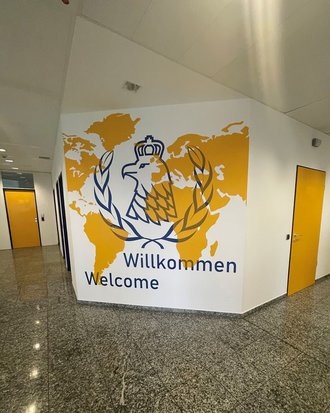 Graffiti Art in Hückeswagen - a White Wall now is Accentuated by the Clouth Colours
In December 2020, the foyer of the head office in Hückeswagen has been decorated with a large graffiti. The graffiti artist Rene Schneider from unikat-colors in Remscheid within less than 5 hours created a very special Clouth unique object.
Combining Tradition with the Present
Clouth is a local, medium-sized family-owned company, whose products are in use all over the world, so the artwork's subject is to illustrate that, on the one hand, Clouth 'has local roots' while, on the other hand, it is 'internationally successful' - what else than to bring in line the tradition-steeped eagle's head in the laurel wreath with a map of the world in a very modern way while the art form 'graffiti' supports the effect of the subject in its completely own way.
Graffiti in the Corporate Colours
To create a harmonious look in the foyer, the graffiti has been sprayed in the well-known corporate colours. This way it blends into the already existing ambience in a stylishly coloured way standing up due to its proportions, making the foyer rooms shining.
5 hours in 30 seconds
Within 5 hours the white wall developed into a work of art. It has been very exciting to accompany the creation of this work of art. To enable you to participate in this creative process, we had a camera to film it, from the very start to its completion – enjoy the next 30 seconds of time-laps recording. Here is the video.
Have Fun with it!